Yasuki Ooe and Makoto Aida "Before and After: The Dropping of the A-Bomb"

| | |
| --- | --- |
| | |
Curated by Chim↑Pom

Period:Saturday 23 July - Sunday 14 August
Closed on Wednesday 15:30-21:00

Venue:Garter @Kitakore Building
166-0002
3-4-13,Koenji-Kita, Suginami-ku,Tokyo
info.chimpom@gmail.com
Admission fee: donation

Cooperation:MIZUMA ART GALLERY, GALLERY G, BORDERLESS ART SPACE HAP
Supported by TERUMO


We are pleased to announce the exhibition "Before and After: The Dropping of the A-Bomb" by Yasuki Ooe and Makoto Aida.

Yasuki Ooe is a 15-year-old junior high school student who goes to the after school daycare facility called "BORDERLESS ART SPACE, HAP" and makes a huge amount of "the atomic dome before bombing which is the Prefectural Industrial Promotion Hall" and "the atomic dome after the A-bomb was dropped" with cardboards, tapes and markers everyday. He is interested in the atomic dome because it is big. It's simple, but his outsiderwise ability, avant-garde artistic style and the political motif with details depended on minute memory…those contrasts without contradiction are his charms.

"Before bombing! After being bombed!" Chim↑Pom was moved when we saw him muttering about the catastrophic moment of human history while making his works. We planned for his exhibition in Tokyo with the cooperation of Gallery G that Shigeyo Kimura, who is also a leader of HAP leads. And as the most resonated partner with Ooe's works, we curated "Mutant Hanako" by Makoto Aida.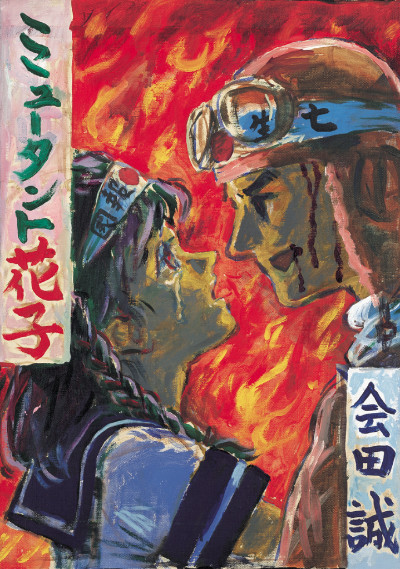 AIDA Makoto
Mutant Hanako (English-dubbed Film version)
2003
video (45 min. 02 sec.)
(c) AIDA Makoto
Courtesy Mizuma Art Gallery



Aida made a manga work "Mutant Hanako" as a part of the series "War Picture Returns" and self-published it at a group exhibition in 1997. Afterwards, it was published from ABC Publication. It could be set in the latter stage of the Pacific War, but also called a mirror of the post-war Japanese society or tastes and keywords we could see it as taboo…It was created with themes based on "Pedophile", "distorting the history", "SF" and "Manga" by childish lines which he did purposely and crazy ideas. It is one of his art work which hard-core Aida fan keeps loving and probably the most extreme work in Japanese art history. The criticism is increasing in this Japanese modern society where conservative swing and geeking are growing. Obviously, the foreseeability as well.

His movie work "Mutant Hanako" in this exhibition was shown in his solo show at Los Angeles at first time. He shot the Manga panels in order and post-scoring to add sound effects and lines in English. The voice actors were unique such as himself, his wife: artist Yuko Okada, painter Akira Yamaguchi, artist Hiroyuki Matsukage, Muneteru Ujino, Ichiro Endo, Ryuta Ushiro and Yasutaka Hayashi before Chim↑Pom…etc.

It has been over 70 years after the war, its reality is fading, but the childishness of democracy is extending. Those both of their works might represent the modern Japan. Those are made wildly with familiar materials, the two wheels as historical themes of the A-bomb dropped and the World War Two and get the audience think about several questions.

War and peace ,and what is the difference between amateur and professional in art?
Ooe and Aida, competition between the two beyond the generation, it is going to stimulate this summer in Japan, where has marked its 71 year anniversary, loosely and intensely.

Chim↑Pom

Press Release

related goods
Yasuki Ooe first portfolio book 2,000yen
Yasuki Ooe T-Shirts Black/White 3,000yen
Makoto Aida "Mutant Hanako" book 1,080yen