Osamu Matsuda solo exhibition "Nothing is Serious"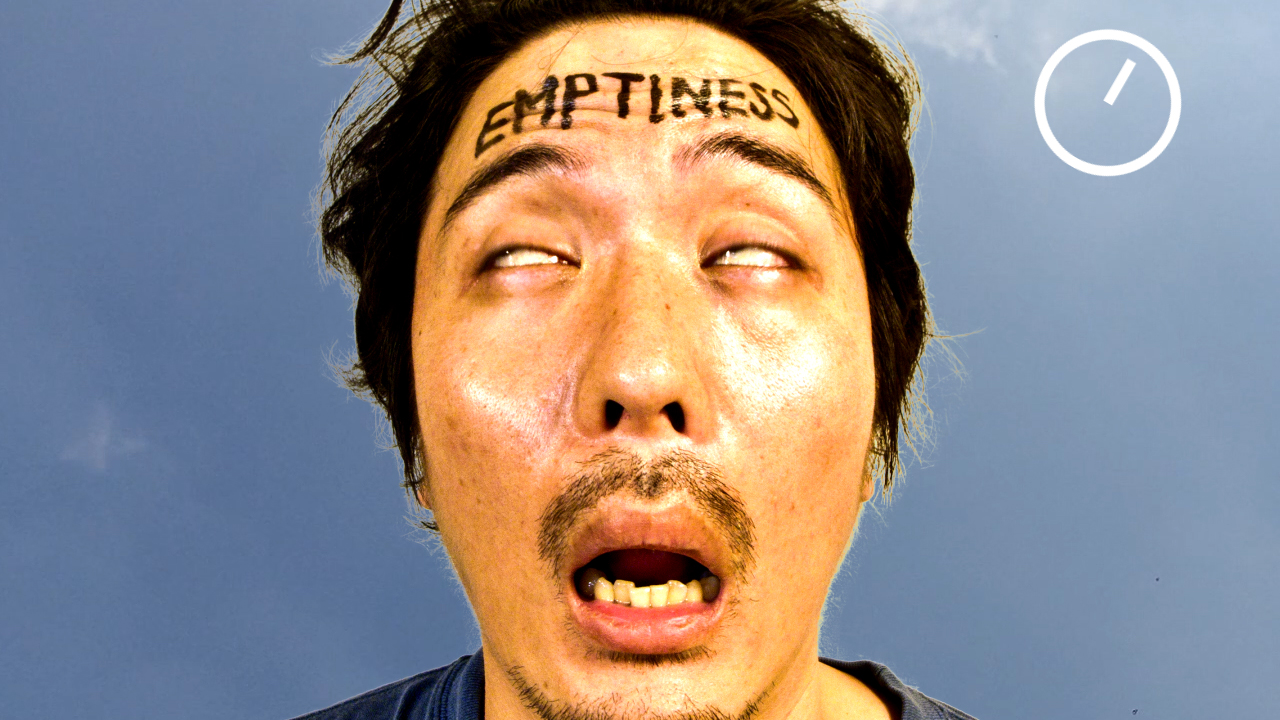 Curated by Chim↑Pom
Collaboration: Hiroya Koto, Yasuro Ide, Encouragement of being an outcast, Takashi Fuzawa

Saturday 3 October - Sunday, 25 October
Opening Hours: 15:00-20:00 (Closed on Tuesday)
Opening party: Saturday 3rd October 18:00-21:00
Venue: Garter @ Kitakore Bldg. 3-4-13 Koenji-kita, Suginami, Tokyo 166-0002
Admission fee: donation

info.chimpom@gmail.com
contact:090-1842-9765 (Matsuda)

Support: MUJIN-TO Production


_______________________________________________________________________
Garter is pleased to announce solo exhibition by Osamu Matsuda.
Matsuda is known for his work style under the themes of discrimination, poverty and human existence and making them into vulgar and cheap comedy, turning them into the works with academic approach. This style is backed strongly from his unique upbringing and view of life.

"There were a lot of old dude who walked around in nude in my hometown, and my grandmother who became senile worshiped the tattoo of Buddha on one of their naked back". Matsuda recollect then Amagasaki city, Hyogo, where he was born and raised. Amagasaki was a manufacturing town, like a stage of all good old Yankee (Japanese gang kids) comedy, was struck by poverty, had strong roots to the comedy culture. In the environment where 80% of the classroom had their hair tightly curled in gangster style, he just went along with and "didn't have the consciousness of being one of Yankee." As a result of having repeated mischief in insensible happy boyhood, Matsuda ended up in the juvenile detention facility. He recalls it was then the first encounter with art occurred when he visited Ohara art museum in Okayama with the rehabilitation program. He moved to Tokyo after four years of high school life and eventually got enrolled in Tokyo National University of Fine Arts and Music on his own expense under the influence of radical art and subculture in LA and the noise music scene of Kansai in the late 90s, finally finishing the graduate school which makes his history exceptional – from juvenile detention facility to Tokyo National University of Fine Arts and Music – his friends make fun as 'one state run facility to another'.
The vulgarity, violence characteristics and academism of Matsuda's works are cultivated in such way.

The exhibition title, "Nothing is Serious" is a motto coming from his own experience which seems to be filled with very serious cases objectively speaking, and the lives of people of Amagasaki who survived difficult situations indifferently.

The father who has no use but only good at making anything into laugh, whom continued extorting the income of the family, without job, while repeatedly running away from home, the Russian prostitute whom he lost his virginity to, the prostitutes standing on the way to school, exchanged physical contact with children. Matsuda always recollected them as source of comical stories as a real person from Kansai.

However, it seemed such environment was linked to trigger and reproduce the severe situation in the next generation. The suicide of his stepmother, the drug addicted younger brother (the third son), and another younger brother (the second son) suffering schizophrenia……"serious reality" around Matsuda is still going on persistently. Who knows how far this goes but as a friend, I cannot help expressing respect while being aghast with his personality, concluding his very own life as "nothing is serious".
Anyway, for Matsuda, 'reality' is not to face but to treat as material for comedy, and therefore should be laughed at. His says, "the reality itself is too hard and is not laughable. If I face to the reality too much, there is no other way but to die." His words are regarded to all of us who are exposed to increasing poverty, suicide rates and isolation in recent Japanese society.

Matsuda was influenced by "intellectual way to challenge a problem in anti-intellectual manner" such as Neo-dada organizers and Paul McCarthy.
However, his works are more unpolished than theirs, with a style of ridiculous jokes. Stubbornly choosing dirty joke and primitive laughter over non-art well-thought humor, Matsuda says, "there is not a fragment of the academism in my jokes. My attitude to try to make people laugh is more important than whether a person laughs or not. However, a guy who repeats a childish joke is generally hated and annoyed."
His wish to be made fool of, and being the object of discrimination feeds his belief to create ridiculous works.

On the other hand, Matsuda was interested in academism and minimalism as "to know an enemy" in Tokyo National University of Fine Arts and Music. He considers intellectual manner and objectivity are like lifeline "to make a work with the view a step away from the subject to not have reality". In other words, placing himself in the position to be laughable without facing too much to serious reality; He thinks "defensive instinct not to be out of order" is the academism itself.

"Nothing is Serious" consists of 11 works taking theme on optimistic survival instinct to survive the modern society, the works are worthless, yet features serious issues such as discrimination and religion, disability. There is an introduction for 3 works here, but please have a look at the whole exhibition by all means. And, please sneer while comparing with modern society and death cry like laughter of a man who cannot escape from the eventful life.


Chim↑Pom 2015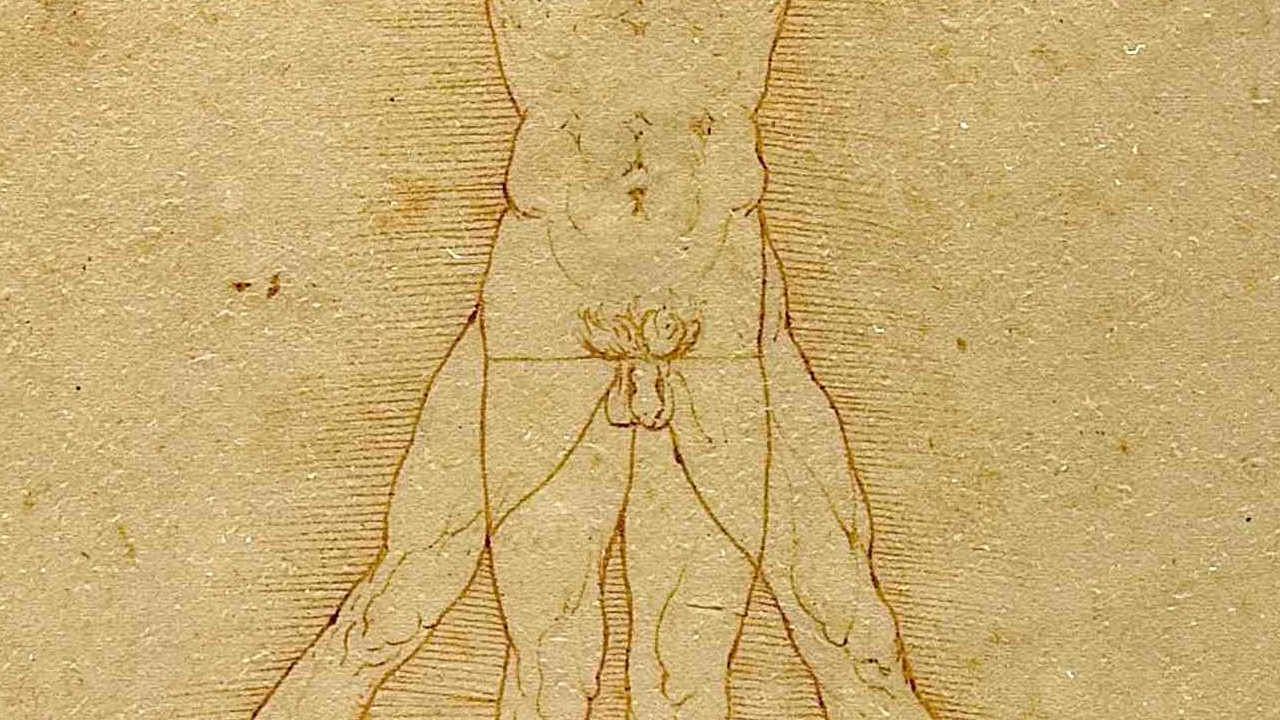 "Dear Extraterrestrial"
A proposal plan to add an extra data to Voyager Golden record to tell existence of life and the culture on Earth to Extraterrestrials. In addition to the original data such as the Vitruvian Man by da Vinci and Mozart's music, Matsuda suggests to add a dirty joke video based on da Vinci's work to tell the truth "humans are stupid creatures". The display consists of the video and modified photograph of the disk.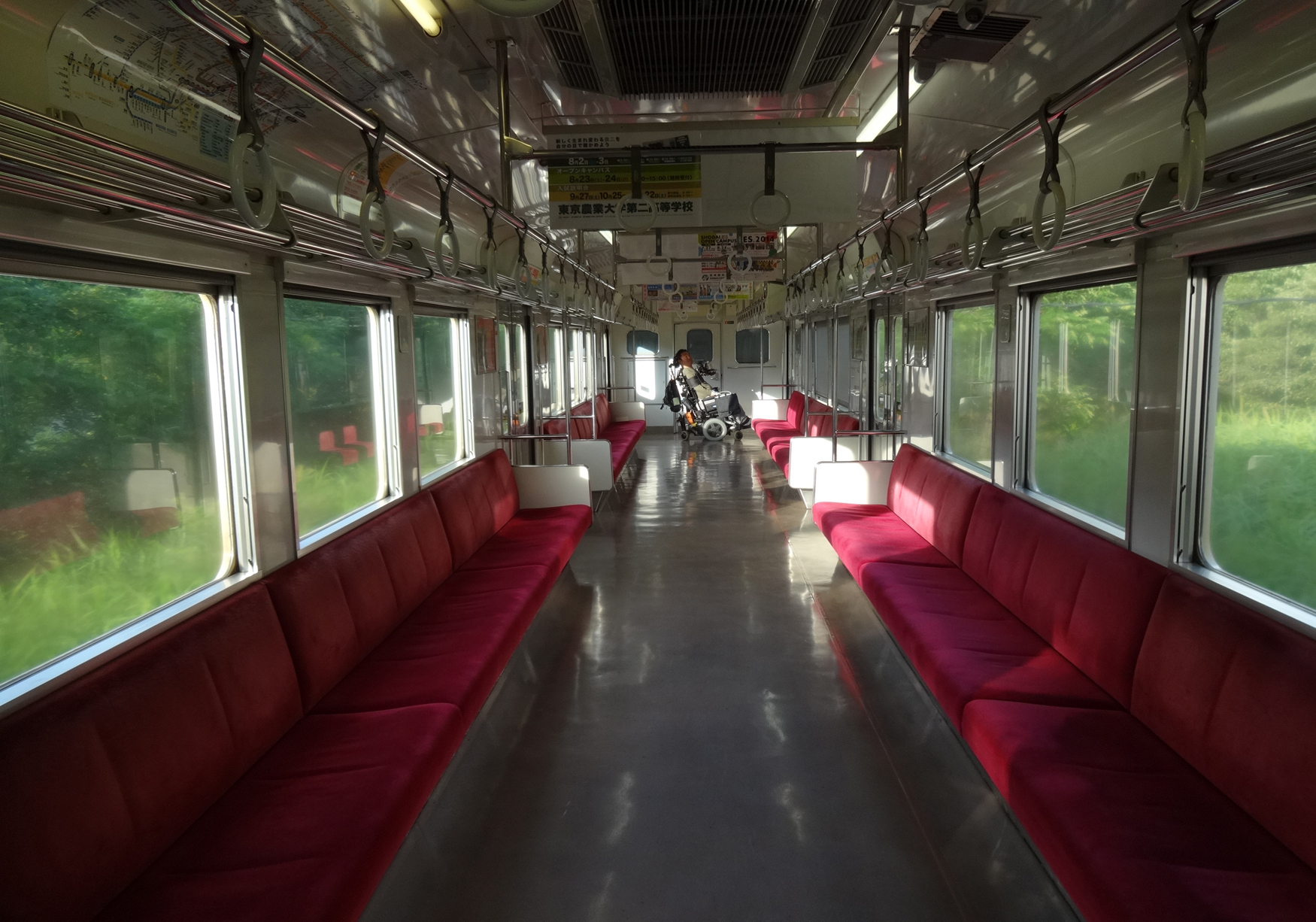 "Normal photograph"
A collaborative work with Fuzawa, a trainspotter who is disabled by cervical vertebrae damage that Matsuda came across at his work as a helper. They travelled together around Japan and took the series of photographs of trains. Matsuda photographed the subjects as instructed by Fuzawa, who had been paralyzed from the neck below. What Fuzawa aims is the quality of amateur railroad photograph. The work is in pursuit of not becoming full-fledged, but finally becoming an amateur by joint force of two people, cooperating with each other.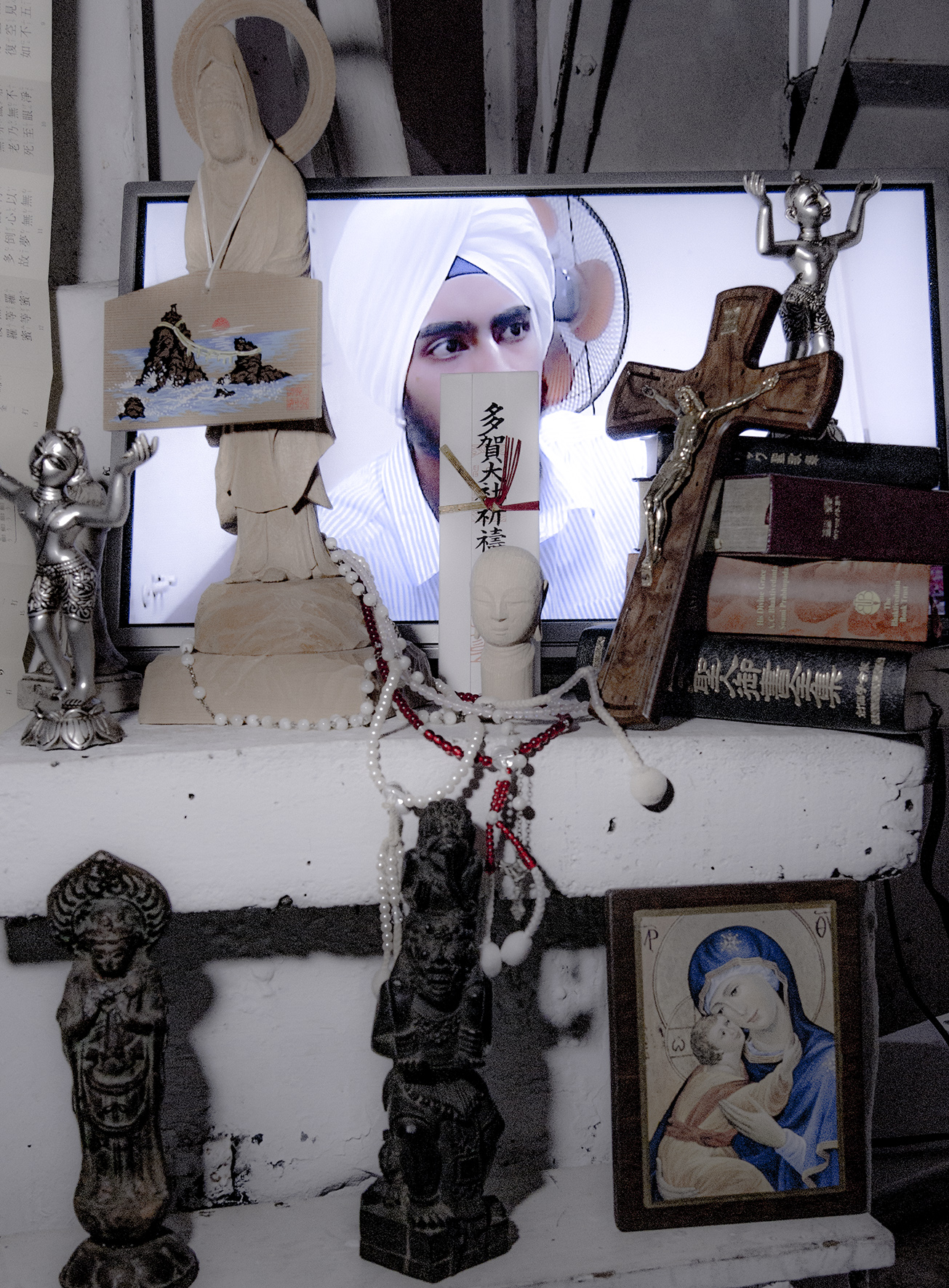 "The method of a method of becoming happy"
A collaborative work with 'Encouragement of being an outcast', the class Matsuda teaches at Bigakko. The work is based on his experience of 'believing' all the religion he was invited to in his school days, despite of being an atheist, because he didn't want to trouble himself declining them.
Matsuda says, "one feels small because you only choose one religion. I was able to see objectively by believing in everything." They created an installation consisting the collection of interview to the various religious people, prayer books, iconic figures and goods, aiming to reach the happiness beyond the judgment of good and bad.